Super Bowl LII is coming right up and millions of people across the country will be watching it. Last year's Super Bowl between the New England Patriots and Atlanta Falcons had over 47 million viewers. We can expect a similar outcome this year, as there's been over 47 million viewers each year, for the past 9 years.
Let's face it, when Super Bowl 2018 comes around on February 4th, most of America will have their attention on the big game. It's no doubt that the Super Bowl is America's most important event. Forget the Thanksgiving Day Parade, the Oscars, and the Daytona 500. As a country, we generally love watching the Super Bowl each year, whether it's for the game, our team, the great ads, or all of the above. As a small business owner, it's important for you to make the most of Super Bowl week.
Now you're probably wondering "How can I do that if I'm not a Fortune 500 company paying millions of dollars for a Super Bowl ad?" Thankfully, there's a few great and affordable ways to get attention around this huge upcoming event. And don't worry, you don't have to be located in Patriots or Eagles fan territory to draw attention to your business.
Here are some ways your small business can benefit from the biggest game in the NFL this year.
Put items on sale
Around this time each year, it's important to focus on Super Bowl-themed sales. Despite whether or not your favorite team is playing, there's so much attention and activity around the Super Bowl.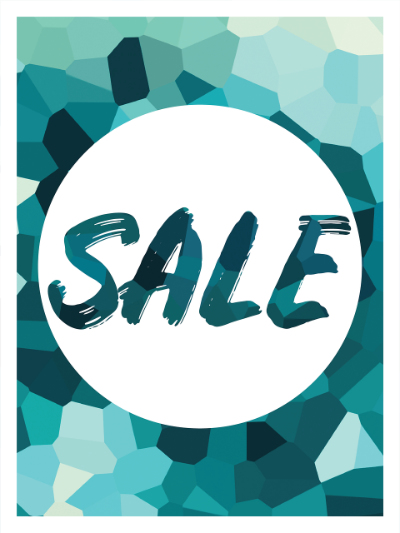 Sales and discounts help in the creation of brand awareness, especially on social media and with email marketing. If you're going to offer certain products and services at a discounted rate, do it about a week or two before the big game and mention that it's Super Bowl related.
Once you decide on the product(s) or service(s) you'll discount, market it as much as possible. Go all in on social media, email marketing, and other forms of marketing to your demographic. Make sure to display the sale on your website as a featured homepage slider or a pop up. If you need help in effectively placing your sale information on your site, Growfio will be happy to assist. We can even help in making your website convert more customers, which will really pay off for your Super Bowl sale and future sales.
If you're looking for coupon code ideas to use with your online store, you could use SUPERBOWL2018, KICKOFF, LLI, NEvsPHI, or HALFTIME35 (for 35% off). With online coupons, be sure to specify and set an expiration date so that your coupon ends when the game does or at the end of the night.
Run a promotion
Promotions are a great way to get attention and can really help your business in a positive way. Just look at what Gardiners Furniture and Mattress, a family-owned home furnishings store, did back in 2013.
The company made a promise to give away all the furniture they sold in the days leading up to Super Bowl XLVII if a Baltimore Raven got a touchdown from a kickoff return. Jacoby Jones did just that during the big game, and Gardiners gave away over $600,000 worth of free merchandise. Thankfully their insurance policy covered most of the cost. Overall, the company said that the promotion had a very positive effect from the event. It garnished so much attention and some winners even came back to buy more furniture.
Think of a promotion your small business could do and be sure to promote it through various marketing platforms.
Have a contest
People love the chance at winning something and contests are fun to enter. Hosting a contest is another excellent way to bring attention to your business, especially through social media. Building brand awareness on social media will make more people familiar with your business and open the doors for future sales.
The content could be something simple, such as giving away 2 $100 gift cards to your store. You could even have people comment on a Facebook post guessing the final score of the Super Bowl. The closest guesser could win some sort of prize basket or an Amazon gift card. Want some contest ideas? Here are 25 creative contest ideas for you to consider.
Create polls
Creating polls on social media have gained popularity over the years. They're not too difficult to setup and it's easy for people to enter them. Whether you create a Facebook poll, Twitter poll, or do one on Instagram by tallying the number of comment responses, it'll be fun for everyone.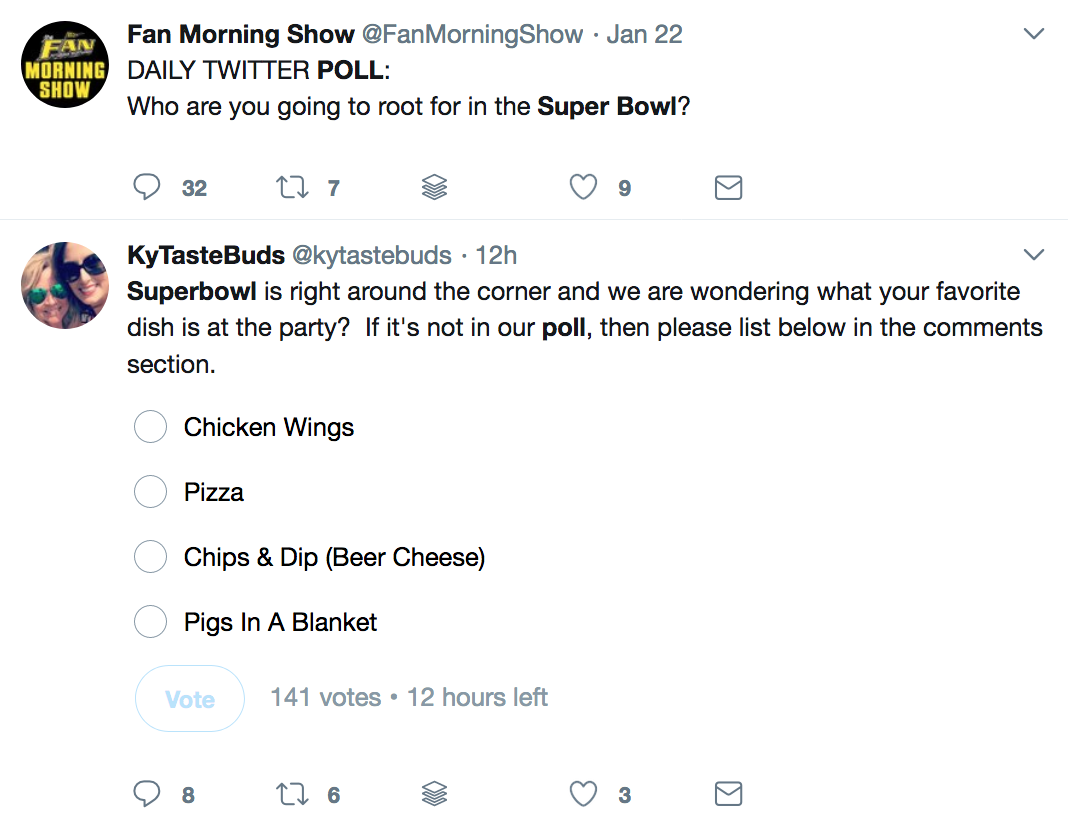 Regarding Super Bowl 2018, be sure to ask questions and opinions related to the game. Here are some ideas:
Which team will score the first touchdown?
What will the final score be?
Who will win Super Bowl MVP?
What TV advertisement did you enjoy the most?
How was the halftime performance?
How many people are you celebrating the game with?
What's your favorite Super Bowl food?
Polls can also lead into discussions, which is a great way to engage with potential customers.
Use hashtags
By using hashtags on Twitter and Instagram, you'll be able to generate attention and engagement. On both platforms, it's easy to search what people are mentioning, whether it's #SuperBowl or a game-inspired hashtag. Some companies will place a hashtag on their Super Bowl ad, which leads to a lot of people using said hashtag. Be on the lookout for those company promoted ones and use them as you see fit.
With hashtags, you can also tweet the big plays. For example, "Did you see the amazing catch ? by #Gronk just now? #SuperBowl #Patriots". Getting involved allows you to easily connect with potential customers who are also watching the game.
Some people are already tweeting about the game, even though it hasn't happened yet. As a business owner, you don't have to wait until February 4th. You can start now if you'd like!
Someone put a #TomBrady jersey on the Rocky statue in Philly LOL @Patriots @Eagles #NFLPlayoffs #AFCChampionship #SuperBowlLII #NEvsPHI #SuperBowl #Eagles #GoPats pic.twitter.com/UDkMtmAybz

— #GoPats ??? (@TorontoLennon) January 28, 2018
#SuperBowl should be a close, fantastic game next week. I'm going for the Eagles. Go Philadelphia!!!???

— Dennis Wong (@No_Mulligans) January 28, 2018
Conclusion
It's important to make the most out of this year's Super Bowl. With 111.3 million people watching last year's Super Bowl, it's by far the biggest sporting event. People are watching the game and tweeting about it/mentioning it on social media, which is why your business should be as well.
There's so much attention around the big game and by using hashtags, creating polls, having a contest, running a promotion, and/or putting items on sale, you'll be able to make the most of the upcoming game. Let us know what you're going to do this year.
Featured image by Lance Cpl. Edward L. Mennenga, USMC [Public domain], via Wikimedia Commons.