Artificial intelligence, commonly referred to as AI, is a game-changer for small business owners.
In today's digital age, a strong online presence is crucial for success. Let's face it, your website is often the first point of contact between you and potential customers. Therefore, it must showcase your brand effectively. However, creating compelling website content can be time-consuming and challenging.
This is where the power of AI comes into play. You can leverage AI to streamline content creation and boost your online presence. Let's dive in!
What exactly is AI?
AI is like a really smart computer program that can do things us humans can do, but on a computer. It's able to learn from the information you provide it, kind of like when you learn new words or games. It can also understand and talk to you, just like when you talk to your parents or friends.
The Power of AI in Content Creation
Artificial Intelligence has revolutionized various aspects of the business world, and content creation is no exception. AI-driven tools and platforms have become valuable assets for entrepreneurs and small business owners.
River, an AI marketing platform, makes it super easy to generate website content, blog posts, and more. You can use their platform for free and try it out.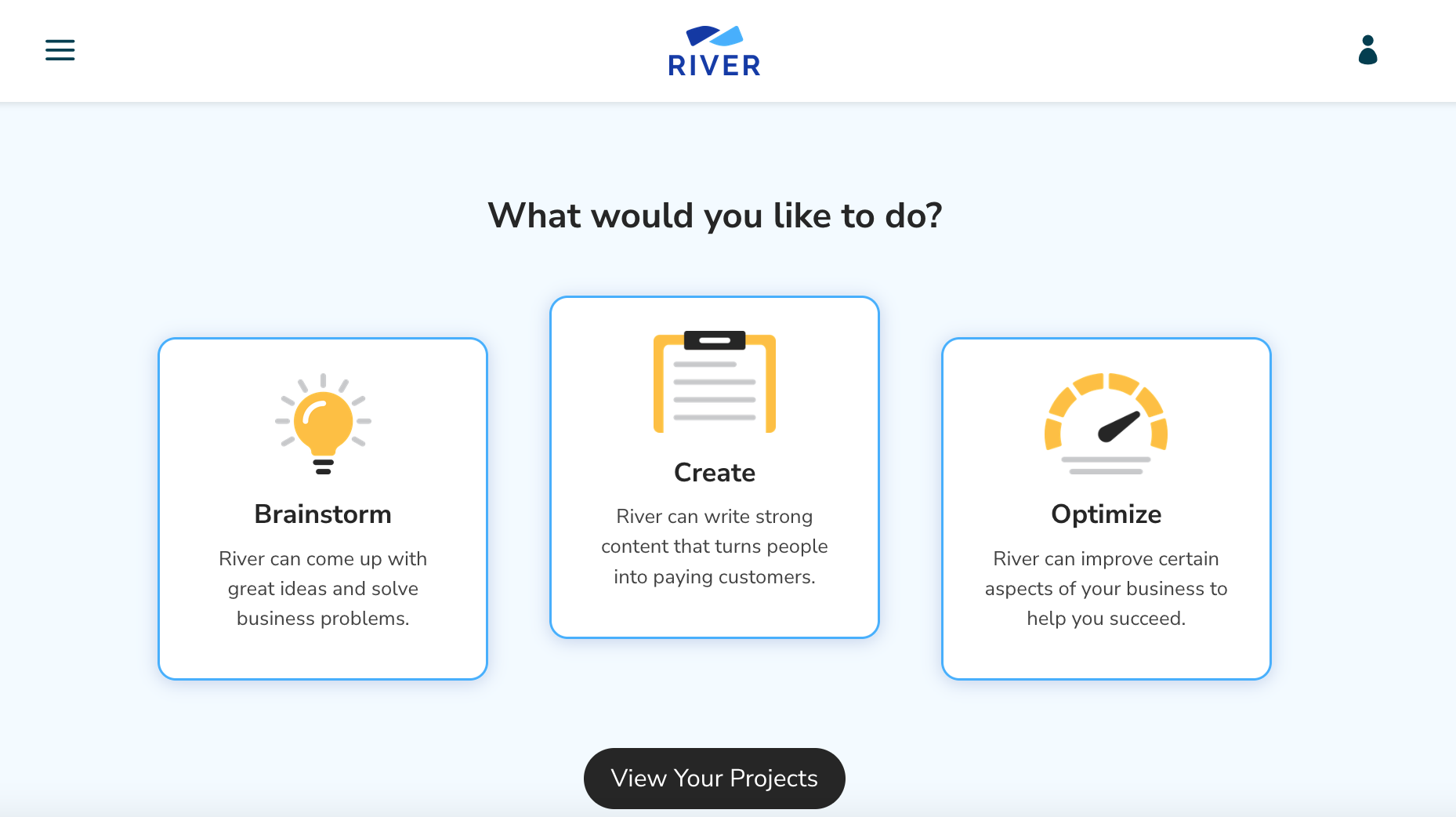 Key benefits of using AI for website content creation
1. Time Efficiency
Small business owners often have limited time and resources to invest in content creation. AI can help by automating the content generation process. Whether you need blog posts, product descriptions, or marketing copy, AI can create high-quality content quickly, allowing you to focus on other important aspects of your business.
2. Consistency
Maintaining a consistent brand voice and style across your website is crucial for building trust and credibility. AI-powered content generators can follow predefined guidelines, ensuring that your content aligns with your brand's unique identity.
3. SEO Optimization
SEO, also known as Search Engine Optimization, is essential for improving your website's visibility on search engines like Google. AI tools can assist in optimizing your content for search engines by suggesting relevant keywords and helping you meet SEO best practices. To learn more about SEO, check out our best SEO practices.
4. Data-Driven Insights
AI tools can analyze data on user engagement and content performance, providing valuable insights to refine your content strategy. By understanding what works and what doesn't, you can make data-driven decisions to improve your website's effectiveness.
Best Practices for Using AI in Content Creation
While AI can be a powerful ally in creating awesome website content, it's important to follow some best practices:
1. Human Touch
While AI can create content, always review and edit the generated content to ensure it aligns with your brand's unique voice and style.
2. Keep It Relevant
Make sure that the content generated by AI remains relevant to your target audience and current market trends.
3. Stay Updated
AI technology is continuously evolving. Keep yourself informed about the latest developments and updates in AI-driven content creation.
Leverage AI for Success
By leveraging AI, you can save time, maintain consistency, optimize for SEO, and gain valuable insights to improve your online presence.
With the right tools and a strategic approach, you can create awesome website content that captivates your audience and drives business growth.
So, don't hesitate to embrace the power of AI and take your small business website to the next level!