This blog article will be different than our previous ones, in the sense that we won't be focused on providing you with value, but rather informing you about the affiliate program we recently launched.
We've had clients in the past, and still do, who refer our services to other small business owners they know. We absolutely love getting referrals because it shows us how much our clients love our services. When they're recommending us to people they know, it just makes us feel really good.
About a month ago, we came up with the idea of having an affiliate program to monetarily thank the people who send more business our way. Having an affiliate program benefits everyone involved. It allows you to earn monthly income, it helps the referred business to grow faster by having a better-looking and more effective website, and it helps us grow as a business. If you're interested in earning recurring income, check out Growfio's affiliate program.
Affiliate program highlights
Earn $50 commission from every successful sale
There's no limit to how much commission you can earn
View referral and payout data within your affiliate area
A tracking cookie is stored for 60 days after the first visit
Payouts are processed via PayPal
Signing up as an affiliate
When you sign up as an affiliate, your application will be reviewed by us within a few days. If everything looks good, we'll approve your application so that you can begin making comission. Once you get approved and sign into your affiliate dashboard, you'll see your referral link which you can send to business owners you know.
Your affiliate link will track who clicks on your link by using placing a cookie in their web browser. If they make a purchase within 60 days of clicking on your referral link, assuming they use the same device and browser, you'll receive $50 in commission for whichever Growfio website plan they purchase.
Our payouts are made via PayPal, so in order to get paid, you'll need to have a PayPal account. After someone clicks on your link to visit our site, you can have them email us with any questions. We understand that making a business purchase isn't always easy, so we'll gladly answer any questions they have. We'll also do our best to sell them on the benefits they'd get. Our email address is [email protected] in case they want to get ahold of us. They can also message our Facebook page.
Affiliate dashboard
Here's an example of what your affiliate dashboard will look like: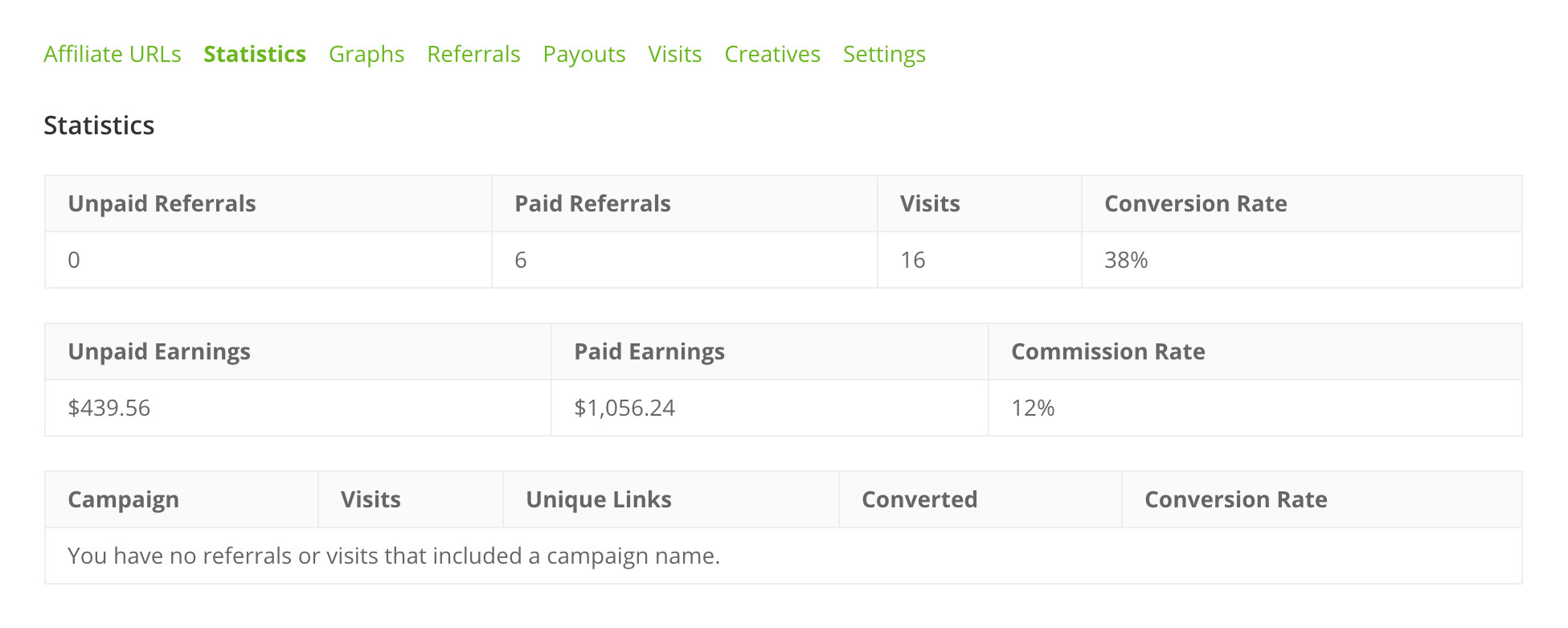 The screenshot above is from the Statistics tab and that page will give you an overview of everything. You'll be able to see how many paid referrals you have, the number of people who clicked on your referral link, the percentage of people who have clicked through and purchased a website plan, and the amount of money you've made so far.
If you click on the Affiliate URLs tab at the top, you'll see your unique referral link. This is the link you want to send out to business owners, since it's how we track your referrals. As for creatives, we don't have any just yet. If you would like a Growfio image or banner to place on your website, send us an email and we will gladly create something for you. From there, you can link the image with your referral link.
What exactly does Growfio sell?
If you're not familiar with our services (which is totally okay if you've never heard of us), we build and manage websites for small businesses. With how our business works, we don't charge anything to build a website. That's all included in our website plans. Our website plans include us building a custom website, managing the web hosting, backend updates, security, backups, and more.
Want to earn commission? Sign up as an affiliate today!