If you Google search "create a free website" or if you look up tutorials on how to make your own website, you're going to see WordPress mentioned a lot. WordPress is a content management system (CMS for short) which has become the standard tool for building websites. It's used by both amateurs and web designers because of it's interface and the incredible amount of features and functions it offers.
To give you an idea of how popular WordPress is, take a look at this Forbes article. As mentioned in the article, a whopping 75 million websites use WordPress. This means that WordPress is responsible for around a quarter of the world's websites. That's a lot of websites. While 75 million is a very impressive number, you might be wondering "Why is WordPress is so dominant?" and "What is it about WordPress that makes it such a popular choice for people who want to build websites?" Well, in this article, we're going to look at what makes it such a popular option.
WordPress is easy to learn
WordPress is easy to learn because there are so many tutorials (both free and paid) on the web that are easy for people to access. So, if someone wants to learn how to build a website, they can use Google to find a WordPress tutorial and from there just follow along to understand the basics of the platform. In this day and age, every business, big or small, needs a website to help bring in customers. This results in a lot of people who have no experience with website building, needing websites. These people have 2 options, either have a professional website design company like Growfio build and manage their website, or they can build it themselves by using WordPress. Even without tutorials or having a technical background in web design, learning WordPress isn't hard. Its interface is very intuitive and easy to navigate around.
There are plenty of premade themes
One of the biggest reasons why WordPress has become so popular is due to the huge number of themes that are available. For those not familiar with with a theme is, it's essentially a premade layout which allows you to make content changes and basic style adjustments. Some themes include plugins, which allow for your website to have more features and functionality.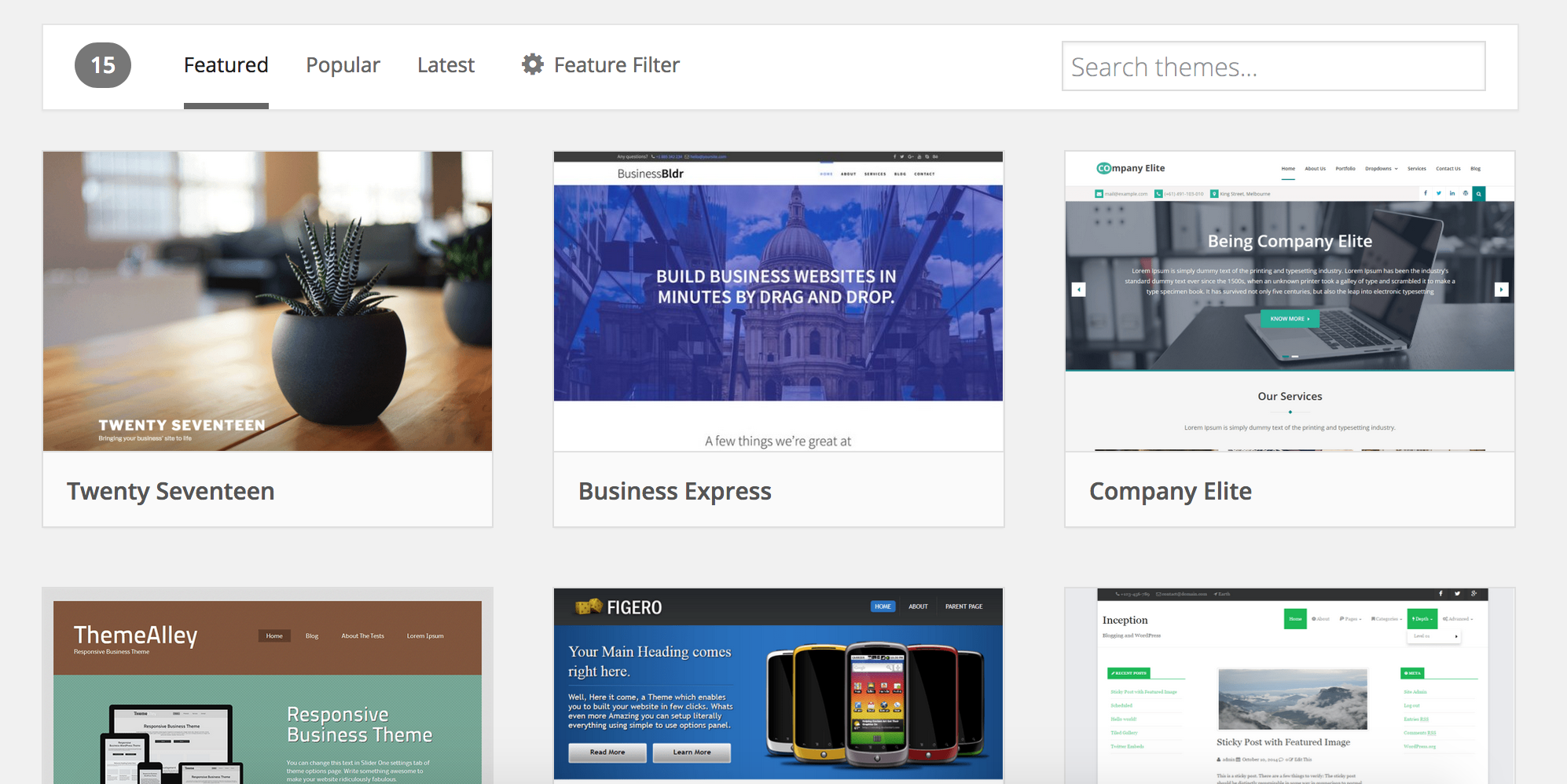 WordPress has tens of thousands of premade themes. You can easily search through various themes and pick out which one you like best. Many of the themes are completely free, making it even easier and cheaper to build a great-looking website. If you're wanting to get serious about your website, Themeforest is a great place to purchase high-quality themes.
There are plenty of plugins
Plugins are essentially apps that add various features and functionality to your site. For example, if your website allows people to log in, you can get a WordPress plugin which sets a maximum number of tries a user gets before they're locked out of their account. This is useful for security purposes. You could also download a plugin which allows customers to schedule an appointment right on your site.
There are a lot of plugins out there and many of them are completely free. Check out our list of popular WordPress plugins for businesses.
Between free plugins and free themes, WordPress allows you to build and customize an amazing-looking website, all without spending a lot of money. With this in mind, it's easy to see why the platform is so popular.
WordPress makes SEO easy
On our blog, we've talked about the importance of SEO for small businesses. Small businesses need to be found easily on search engines if they want to draw in customers. Using SEO to achieve a higher ranking on Google (and other search engines) is crucial for business owners. Thankfully, WordPress makes SEO a lot easier.
WordPress helps automate some of the normal SEO process. If you want an expert's opinion on the matter, just watch this video from Matt Cutts, an engineer at Google. He thoroughly endorses WordPress as the best platform for SEO. As an added bonus, WordPress has a ton of SEO plugins. The best example of this is the free SEO plugin called Yoast SEO. It's truly a must-have for any small business website.
WordPress is useful for both blogs and regular websites
A big part of the reason why WordPress has become so dominant is because it's equally effective for both regular websites and blogs. Believe it or not, WordPress actually started out as a blogging platform. It has since evolved and become a useful tool for building regular websites, but, it still remains a very useful tool for blogging.
Any WordPress site can have a blog added to it, if you're interested in blogging. We highly suggest that small business owners have a website blog, as there are many benefits of doing do. If you own a small business, you should read about the importance of small business blogs.
To sum it all up
Using WordPress has many benefits and they currently power over 75,000,000 websites around the world. It's extremely popular because it's easy-to-use and learn. The user interface is intuitive and easy to navigate around. Plus, if you're struggling to find your way around, there are plenty of WordPress tutorials online that will help make the platform easy-to-use.
WordPress has a very active community of developers who are constantly creating new themes and new plugins, many of which are free to use. The platform helps make the process of search engine optimization a lot easier and WordPress is useful for blogging and having a regular website. Hopefully, you now understand why WordPress is so popular when it comes to web design.
If you're interested in having a team of web professionals build and manage your website, check out our website services. We don't charge any design fees when building a professional site.